Click here to view original web page at www.grandrapidsmn.com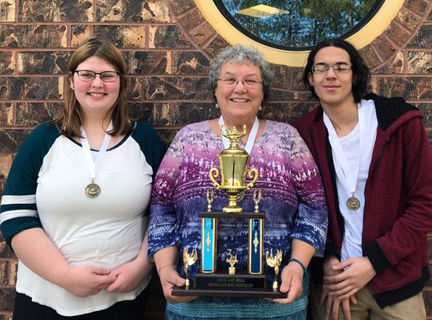 The Grand Rapids High School (GRHS) Ojibwe Quiz Bowl team brought home the third place trophy from the Lester "Jack" Briggs Regional Quiz Bowl Tournament held on Friday, May 5 at Fond du Lac Tribal and Community College. This tournament is considered the state meet and included 23 teams competing, with GRHS team members Emily Vernig and team Captain Elijah Howard placing third.
"Quiz bowl competition is particularly challenging in that half of the questions are pertaining to Ojibwe language, considered one of the most complex languages in the world," said GRHS team advisor Patty Jo Erven, who noted the GRHS team is rather unique compared to their counterparts.
"[The GRHS] team is half the size of the others," said Erven. "Most teams have four players."
However, the small size of the Grand Rapids team did not halt their course for success. Since October of last year, the duo has practiced once a week for two hours per session to hone their skills. As a result, the team has won three trophies over the past year, a first in the GRHS team's history.
"I am so proud of this incredible duo," said Erven. "They work hard and are very committed to learning the Ojibwe language, history and culture. Quiz bowl judges, moderators and other coaches are starting to sit up and take notice of our unique team and have given kudos to them which gives our team even more motivation. It is nerve-wracking and wonderful to watch them compete."
Ojibwe Quiz Bowl team practices will begin again in October. Students who are interested are welcome to participate in the practices and eventually join the team. Contact Erven for more information at perven@isd318.org

Click here to view full article
---